Bournemouth EDL march and counter protest cost police £130,000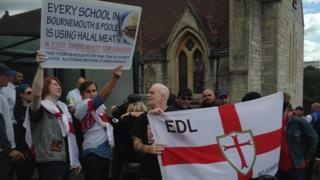 The cost of policing two protests in Bournemouth in August totalled £130,000, Dorset Police has revealed.
About 200 English Defence League (EDL) supporters descended on the town on 23 August, prompting a "We Are Bournemouth" counter protest.
Officers from four neighbouring forces were drafted in on the bank holiday Saturday to help with the operation - at a cost of £115,000.
The remaining £15,000 was for equipment and overtime payments, the force said.
However, officers did not received enhanced pay for working the bank holiday weekend and many had rest days cancelled.
The "We Are Bournemouth" protest was co-ordinated by the Unite union and Trades Union Congress (TUC).
Operation Gold Commander Nicky Searle said: "The operation was intelligence led throughout, and the levels of police officers deployed and available were reviewed regularly to ensure that they met the threat and risk posed by the EDL rally and counter protest.
"Dorset Police engaged with both groups throughout the planning process to balance their needs with those of the wider public."