Dorchester's Tolpuddle Martyrs trial building revamp delayed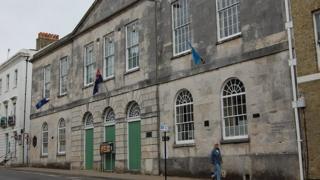 Plans to transform the court building where the Tolpuddle Martyrs faced trial into a tourist attraction face a delay over lottery funding.
The Heritage Lottery Fund (HLF) has deferred a decision over a £1.1m grant bid to revamp Dorchester's Shire Hall.
The trial of the six farm labourers in 1834 is regarded as a founding moment for the trade union movement.
HLF said it wanted more information on Shire Hall Trust's business plan before a decision was made.
It said it needed this in order to make a "fully informed assessment" and to ensure the long-term sustainability of the project.
A decision is now expected next year, but HLF has not yet given a date.
Planning permission for the £2.9m visitor centre was granted in July.
If the trust is successful in its bid for funding for the Grade-I listed old courts and cells, West Dorset District Council said it would match the sum awarded.
The project was initially awarded £69,000 by HLF and £100,000 from the local authority.
Conservative council leader Robert Gould said he would work with HLF to develop the business plan.
He added the authority hoped "to hear positive news about the funding for this fantastic visitor attraction next year".
---
The Tolpuddle Martyrs
Farmhand George Loveless and fellow workers James Brine, James Hammett, James Loveless, John Standfield and Thomas Standfield met under a tree in 1834 to form a "friendly society" to protest against their meagre pay of six shillings a week.
They were arrested for the crime of swearing an oath of secrecy and sentenced to seven years' transportation to an Australian penal colony.
After the sentence was pronounced, popular opinion swung in support of the men. There was a massive demonstration in London and an 800,000-strong petition was delivered to Parliament.
The government eventually relented and the men returned home with free pardons.
The village hosts the annual Tolpuddle Martyrs Festival each July in their honour.
---