Weymouth Business Improvement District heads step down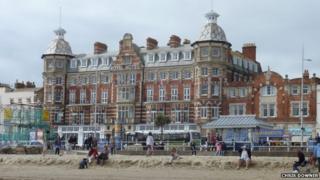 The joint leaders of an organisation which aims to boost business in Weymouth have resigned.
Alistair Clarke and Alison Theobold stepped down ahead of a vote of no confidence in the Business Improvement District's (BID) management team.
It follows an Annual General Meeting ten days ago at which a number of the town's traders questioned the effectiveness of the organisation.
Mrs Theobold said: "I now feel that I cannot continue as chair."
'Achieved so much'
A BID is a scheme where businesses pay an additional levy on top of their business rates for services aimed at improving trade. These can include measures such as new street lights or extra litter patrols.
Mr Clarke said: "We have achieved so much over the past year - work that can be built on and will help deliver real benefits for the businesses in Weymouth."
Mrs Theobold said: "It is with regret that I have made this decision as I truly believe that Weymouth does have a bright future if businesses, the local authority and Weymouth BID work together."
At the AGM on 18 November, Weymouth traders demanded to know where their money was being spent.
The board said the benefits of the BID, which was formed a year ago, would not be realised until next year.
More than 100 people attended the meeting, during which Mrs Theobold admitted it was working without an agreed constitution.
Steve Newstead has become the BID's interim chairman.