Blandford E. coli 'cluster of cases' investigated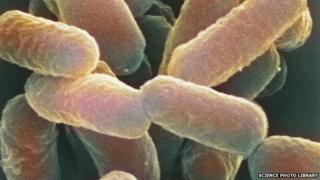 Nursery children are among several people who have been infected with a "very rare" E. coli strain that led to kidney problems in some patients.
Ten people in the Blandford area of Dorset have been diagnosed with the bacterial illness since July, Public Health England (PHE) said.
Those affected include children at Blandford Children's Centre Nursery.
PHE said the "cluster of illnesses" involved the O55 strain, not identified in England since records began in 1994.
Seven of those affected developed the kidney problems, but there have been no deaths, PHE confirmed.
The most frequently reported E. coli strain to cause illness in England and Wales is O157, which can be fatal.
Nursery closure
Vanessa Glenn, head of family support at Dorset County Council, which runs the nursery in Black Lane, said a child there was diagnosed with E. coli infection in mid-October.
She said it was closed for three days while deep-cleaning work was carried out.
Another child from the nursery was infected on Monday and it is currently closed pending the results of staff blood tests and child stool samples, she added.
She said there had also been another E. coli case involving a child from Blandford who had attended Shaftesbury Children's Centre, although this is not part of the "cluster".
Ms Glenn said: "While there is no indication of a direct link between the nursery and recent cases, we are working closely with Public Health England and local authority environmental health officers to help tackle the problem."
She added parents had been "kept fully informed" and were being advised of the nursery closure.
Letters to parents
Noëleen McFarland, consultant in health protection at PHE Wessex, said any E. coli infection was "very serious", and added it "can be passed easily from person to person and young children are particularly easily affected".
The kidney problems some of those affected have experienced - called haemolytic uraemic syndrome - are a "serious complication" of an E. coli infection, PHE said.
It added all those affected and their close contacts were being followed up, and further investigations were taking place to determine the likely source.
"As some cases have occurred in people associated with a children's nursery, letters have been sent to parents whose children attend the nursery and staff, informing them about E. coli O55 and the ongoing investigation," PHE said.
Letters have also been sent to hospital doctors and local GPs, PHE added.
North Dorset Environmental Health Department is assisting with the investigation.
Avoiding E. coli infection
Wash hands thoroughly after using the toilet, before and after handling food, and after handling animals
Remove any loose soil before storing vegetables and salads
Wash all vegetables and fruits that will be eaten raw
Store and prepare raw meat and unwashed vegetables away from ready-to-eat foods
Do not prepare raw vegetables with utensils that have also been used for raw meat
Cook all minced meat products, such as burgers and meat balls, thoroughly
People who have been ill should not prepare food for others for at least 48 hours after they have recovered
Source: Public Health England
---