Armed police arrest suspected gunman in Weymouth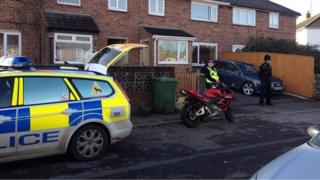 Armed police have arrested a man in Weymouth, Dorset, who was thought to have had a gun.
Firearms officers raided two houses in Culliford Way in Littlemore earlier where the man and a woman were arrested.
The 48-year-old man is being held on suspicion of possessing a firearm with intent to endanger life.
The woman, aged 27, was arrested on suspicion of possessing cannabis with the intent to supply.
Bill Tyler, who has lived in the street for four years, said: "I find it extremely worrying, I've got a small child.
"I wouldn't say it's necessarily a very close-knit community... but I haven't seen any real problems, not anything out of the ordinary. This is quite extreme with firearms and stuff.
"They [the police] came out of the van with riot shields and I thought, oh my word, what's going on? It was quite a shock."