Dorset tri-council chief to be appointed by March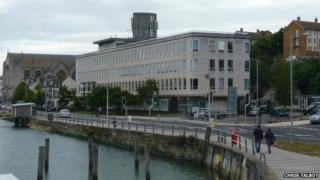 Three councils in Dorset are to have a shared chief executive by March 2015.
Last month, Weymouth & Portland Borough Council agreed to merge with North Dorset and West Dorset district councils in a bid to save £6m by 2020.
The authorities said the appointment of the chief executive would be followed by a senior management team, which would rationalise the councils' assets.
A consultation to ask residents want they want the new "tri-council" to achieve will end on 16 January.
A single workforce is to be created by the merger. No estimates have been given about the potential number of job losses.
West Dorset District Council already shares a chief executive with Weymouth and Portland - Matt Prosser - whose published salary is between £110,000 and £114,999. North Dorset chief Elizabeth Goodall earns between £82,360 and £91,870.