Body parts killer son 'gave away Saw horror movies'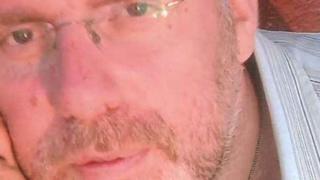 A man who killed and dismembered his father has told a court he gave away a horror movie boxset to a friend, in order to "distance" himself from them.
Nathan Robinson, 27, denies murdering William Spiller, whose head was found in a filing cabinet at their flat in Lacey Court, Stedman Road, Bournemouth.
He told his trial at Winchester Crown Court, the Saw DVD set was his father's and he had only seen one of them.
He admits manslaughter on grounds of diminished responsibility.
The trial has heard Mr Robinson used a Stanley knife, hacksaw and a saw to cut up the body of the 48-year-old taxi driver in May last year.
He placed the parts in storage boxes which he then used as a TV stand.
'Form of torture'
Under cross-examination by prosecutor Nigel Lickley QC, Mr Robinson admitted he had taken the set of seven films with him to Glasgow the day after the killing, and given the boxset to a friend, to "get rid of it".
Mr Lickley asked him: "You took them because they first of all reflected what you did to your father in some way?"
The defendant, who has said he cannot remember much of the incident, replied: "I do not know, so I cannot argue."
When asked why he had given them away, Mr Robinson said: "I think if it was not to be linked to it, I could have thrown it in the bin. I was distancing myself from it."
When asked if he had watched the films, Mr Robinson said: "I haven't seen them all, I have seen the first one, I remember going to the cinema.
"They are not my sort of films, I do not like horror films."
He said his father had been watching them.
When asked about the content of the films, he replied: "Very much horror and gore, a form of torture. They usually involve some form of dismemberment."
The trial has previously heard he was abused as a child by his father and another man, and his mother worked as a prostitute.
The trial continues.