Branksome Dene garden collapses into car park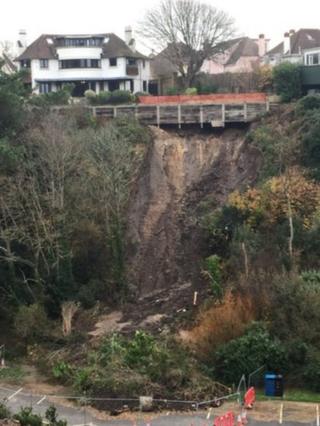 Part of a private garden has collapsed into a beach car park in Dorset.
Tonnes of soil, vegetation and debris fell into Branksome Dene Chine, Poole, as a result of the landslip on Thursday.
Borough of Poole council, which owns the car park, has cordoned off the area while investigations take place. The rest of the parking remains open.
No-one was injured in the collapse which happened at a property behind Sandbourne Road on Thursday morning.
Simon Legg, street scene operations manager, Borough of Poole said: "We are aware of the landslip at Branksome Dene Chine and have cordoned off a small section of the car park.
"A surveyor has visited the property owner to assess initial damage and we understand the owners are seeking advice from structural engineers.
"A further assessment of the stability of the embankments will be undertaken prior to the removal of any material from the car park."
The stretch of coast is prone to landslips, especially following spells of heavy rain.
In February, a 20m wide (65ft) strip of cliff face fell onto the promenade between Bournemouth and Boscombe piers.