Bournemouth killer who dismembered father 'was abused'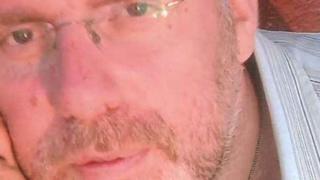 A man who killed and dismembered his father, using his body parts in a makeshift TV stand, was sexually abused by him as a child, a court heard.
Nathan Robinson denies murdering William Spiller, whose head was found in a filing cabinet at their flat, in Stedman Road, Bournemouth.
Mr Robinson told Winchester Crown Court he was 13 when his father abused him.
The 27-year-old denies murder but admits manslaughter on grounds of diminished responsibility.
The court earlier heard Mr Robinson used a Stanley knife, hacksaw and a saw to cut up the body of his taxi driver father at the flat they shared, following an argument over money.
Mr Robinson also told the court his mother, Elaine Robinson, had worked as a prostitute, and that he was sexually abused by another man who she had left him with.
'Abused at hotel'
He said the memories came back to him in 2011.
"I found an advertisement of my mum's, advertising for sex in cars, with her current telephone number," he told the court.
"That affected me very greatly, it started bringing back memories of things I had seen and experienced in my childhood."
Mr Robinson said he was abused by his father in a hotel.
"It's horrible, it's not just the same as being abused, it's different when you are aware it was at the hands of your dad," he said.
The court heard Mr Robinson was diagnosed as suffering from anxiety and a depressive disorder.
He also had post-traumatic stress disorder caused by the abuse, but cancelled visits to a psychiatrist because his father disapproved.
'A lot of bullying'
The jury was told the two argued over £36,000 Mr Robinson had borrowed from his father over two years, including money for a trip to Thailand.
"He was being physically violent towards me, a lot of shouting, swearing, a lot of bullying, calling me names," he explained.
Officers found the dismembered remains of Mr Spiller, who was 6ft 5ins, "packaged neatly" in plastic boxes which were being used as a TV stand. His head was in a filing cabinet.
A neighbour who lived below noticed a "pink liquid" dripping through his bathroom ceiling.
The trial continues.