Poole beach storm damage sand pumping works begin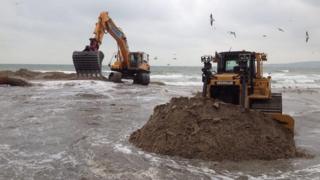 More than 40,000 cubic metres (1.4m cubic feet) of sand is being pumped on to a Dorset beach to protect nearby homes from storms.
Last winter Poole's Shore Road beach suffered about 10 years' worth of erosion in a couple of months, the borough council said.
Government funding of £700,000 will pay for the repairs.
The pumping of the sand is expected to last two weeks and will be carried out 24 hours a day, seven days a week.
Contractors are expected to be on site for up to five weeks.
A 700m (2,300ft) pipe has been constructed between the seabed and beach with sand bunds or mounds built to stop the water from getting to the pipe.
The sand is being blasted through the pipe onto the beach either side of Shore Road to be moved around and levelled by bulldozers.
Short sections of the beach may be closed while the work is carried out.
The sand, supplied by Poole Harbour Commissioners, has come from maintenance dredging of the Swash Channel.