Poole Santa Parade cancelled over crowd fears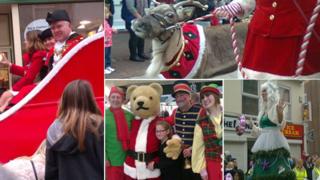 A Santa Parade has been scrapped because organisers fear it will attract too many people.
The event in Poole has been staged for the past 40 years and up to 10,000 flock to see it.
But a spokesman for Dolphin Shopping Centre, which runs the event, said there were fears over crowd safety and the council is looking at putting on a replacement parade.
More than 2,400 people signed petitions to reinstate the event.
The event features Father Christmas arriving by speedboat to Poole quay followed by a parade down Poole's High Street.
Dolphin Shopping Centre manager John Grinnell said: "We've become a victim of our own success.
"As we've seen the numbers swell every year, we've become increasingly concerned about the volume of people in such a confined space, especially around moving vehicles."
Petition organiser Ryan Stiggants said: "It is an outrage and a shame that such a fantastic family event would be stopped due to 'health and safety issues'.
"It gets the whole town into the Christmas spirit and stopping it will be a great loss to people.
"I am now 18 and remember thoroughly enjoying this event as a child, and I don't want my younger sister and other children to miss out on an amazing event."
Poole Borough Council leader Elaine Atkinson, said: "The council was disappointed to learn that the annual Santa Parade along the High Street would not be taking place this year.
"We are currently working hard with partners and the local community to see if there is the possibility of providing an alternative parade."