Dorset County Council leader Spencer Flower stands aside to fight charges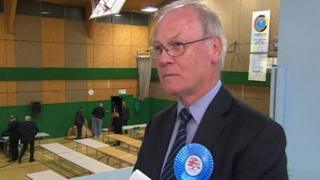 The leader of Dorset County Council has said he will stand aside while he fights claims of failing to declare interests in two housing companies.
Spencer Flower, of Verwood, Dorset, denies three offences under the Localism Act 2011.
The 72-year-old is due before Bournemouth magistrates on 2 December.
The councillor said he will temporarily stand aside from his role and has asked deputy leader Robert Gould to fulfil his duties.
Mr Flower told BBC News: "I want to put the people of Dorset first at a time when the council is going through a difficult period of service transformation.
"I cannot fulfil my duties in the way I wish at this time."
Mr Flower is accused of failing to disclose he was a non-executive director for Zebra Property Solutions Ltd to East Dorset District Council and to the county council.
At a county council meeting on 25 February 2013, it is alleged Mr Flower did not disclose his connection to Synergy Housing Ltd, a company for which he was also a non-executive director.
At this meeting the council's core strategy for the provision of social housing was discussed and it is alleged that Mr Flower voted and took part in the discussion.