Rare sighting of little bustard in West Bexington, Dorset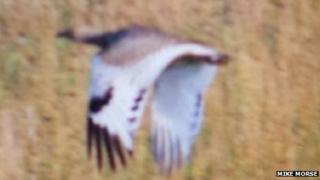 A bustard bird, which has not been seen on mainland Britain for 18 years, has been sighted in Dorset.
The little bustard was photographed by Mike Morse on farmland in West Bexington, near Bridport.
The RSPB described the sighting as "a major rarity". The last reported sighting on the mainland was on the Lizard, in Cornwall, in 1996.
Mr Morse, of Netherbury, said it was "a good reward" for long hours spent watching birds in the area.
Tony Whitehead, from the RSPB, said there have only been 25 sightings of the bird in the UK since 1950.
"Although it was last seen in the UK on the Isles of Scilly in 2002, that was not as easily accessible as when it was spotted in Cornwall," he said.
He added the bird "shouldn't be here" as the species normally migrates further south for the winter, and as a result he said, "lots of people will be flocking to Dorset to see it".
Little bustards live and breed in grassland areas. There is a resident population in Spain, with migratory populations in France, Ukraine, southern parts of Russia and Kazakhstan.