Killer son who dismembered father 'owed him money'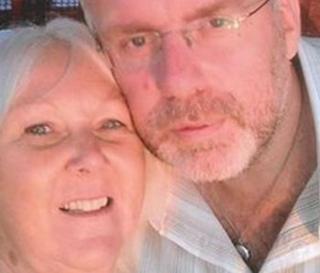 A man who killed and dismembered his father borrowed £36,000 from him over two years and took another £7,000 after the killing, a court has heard.
Nathan Robinson denies murdering his father, William Spiller, whose body parts were found in boxes in their flat in Stedman Road, Bournemouth.
Prosecutors suggest Mr Robinson killed his father in a dispute about money.
The 27-year-old denies murder but admits manslaughter on grounds of diminished responsibility.
Giving evidence at Winchester Crown Court, Glenys Molyneaux, Mr Spiller's partner, said he had told her he had £150,000 in cash in a filing cabinet.
She said he had given his son money to pay for insurance on his taxi and another car, which the defendant had failed to do, leading to Mr Spiller ending up in court, although he received an absolute discharge.
'Explicit messages'
Ms Molyneaux also told the trial that Mr Spiller had become concerned about his son's drinking.
She said on one occasion she was "horrified" when Mr Spiller showed her three sexually explicit text messages that Mr Robinson had sent about her.
She said: "He was angry but it was clear from the text messages that it appeared that Nathan had been drinking when he sent them so Will made excuses for his behaviour."
Nigel Lickley QC, prosecuting, told the jury Robinson killed his father on 16 May 2013.
He said a note found in their flat, in Lacey Court, showed Mr Robinson had borrowed £36,000.
The court heard Mr Robinson told police he suffered from blackouts and could not remember all of the incident in which his father died.
"He remembers his father sitting on the bed, he remembers going for his dad and stabbing him. He said he was suffering from one of his episodes where 'I kind of blackout'," Mr Lickley said.
"He remembers picking up a part of his father and putting it in a large box. He remembers tidying up with the cleaner. He thought, for some reason, the rest of his dad went into the other boxes."
The trial continues.