Bournemouth hospital improves after 'inadequate care' criticisms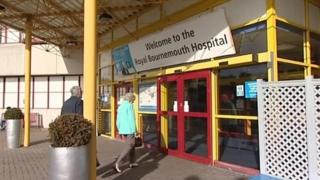 Patient care has improved at the Royal Bournemouth Hospital following criticisms last year, the health watchdog has found.
A Care Quality Commission (CQC) report in December 2013 found medical care, including older people's care, was "inadequate".
The latest inspection found staffing levels, A&E security and dementia care had all improved.
The chief inspector of hospitals said "definite progress" had been made.
The 2013 report singled out Wards 3 and 26 for elderly medical patients as problem areas with patients in some wards found left in soiled and wet beds.
At the time of the inspection the hospital was short of 140 nurses.
An unannounced inspection in August and a follow-up inspection in October found the hospital had addressed the main issues.
A new plan for elderly care and better support for junior doctors has been introduced.
Chief inspector of hospitals Professor Sir Mike Richards, said: "Our inspection last year highlighted some real concerns, particularly about the quality of care on some wards, the staffing levels and the trust's strategy to cope with high occupancy rates.
"It is encouraging that we found that staff were proud of the improvements achieved since the last inspection."