Dorset three-council merger approved in final vote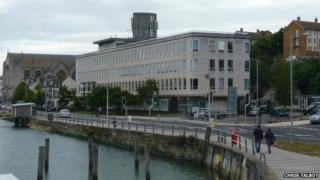 Three local authorities in Dorset are set to merge after councillors voted in favour of the plan.
Weymouth and Portland Borough Council was the last of three authorities to decide on the "tri-council" arrangement with North Dorset and West Dorset.
Councillors voted 24 in favour, seven against. Details of the merger, including a timetable and any potential job losses have yet to be decided.
It has been claimed the merger would save £6m by 2020.
An amendment to defer the decision was defeated earlier in the debate.
Liberal Democrat councillor John Birtwhistle said it would "sign a death warrant" for the council.
Under the proposals, the authorities would share one chief executive and senior management team.
A "single workforce" would also be created.
Each council would continue to set its own budget and remain independent, but work from one office.