Storm-damaged Poole beach sand pumping works begin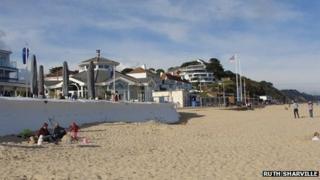 More than 40,000 cubic metres (1.4 million cubic feet) of sand is to be pumped on to a Dorset beach to protect nearby homes from future storms.
During last winter's storms, Poole's Shore Road beach suffered about 10 years' worth of erosion in a couple of months, the borough council said.
Government funding of £700,000 will pay for the repairs.
Work will start in mid-November and contractors are expected to be on site for up to five weeks.
'Noise disturbance'
Borough of Poole council said the work would include erecting and dismantling a pipeline which would be used to pump the sand on to the beach, 350m (1,150ft) either side of Shore Road.
It said it may have to close short sections of the beach during the work.
The pumping of the sand is expected to last two weeks and will be carried out 24 hours a day, seven days a week.
Councillor Xena Dion, cabinet portfolio holder for flood and coastal management, said this "may cause some noise disturbance" but added "every effort will be made to ensure this is kept to a minimum during the night time".
The sand, supplied by Poole Harbour Commissioners, has come from maintenance dredging of the Swash Channel.