California Quarry oil and gas drilling plans unveiled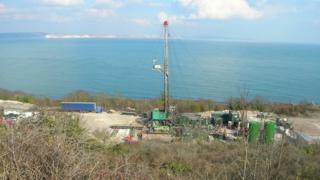 Controversial plans to drill for oil and gas in Dorset are being unveiled to the public.
InfraStrata has planning permission to drill onshore at California Quarry near Swanage to a prospect offshore beneath the seabed.
But protesters claim oil or gas extraction would "destroy" the landscape, as rigs would be close to a historical site and conservation area.
The plans are on show at the Mowlem Theatre, Shore Road, Swanage.
Jurassic Coast 'industrialisation'
The project will use conventional drilling methods, not hydraulic fracturing - otherwise known as fracking.
InfraStrata chief executive Andrew Hindle said: "The plans have been through the full planning process and are carefully designed to cause minimal impact.
"The rig site is within a working stone quarry, away from houses and is screened by trees.
"Our plans are comparable to those already in long term operation on the Jurassic Coast. "
The well will reach a depth of approximately 2,000 metres (6,600ft) below the sea to the south of the site.
Concerned residents have set up a petition against the drilling, which would be near Durlston Castle and Townsend Nature Reserve.
Campaigner Andy Kirkwood, from Stop The Swanage Gas Rig, said the drilling site would be about three football pitches in size and would mean "an industrialisation of the Jurassic Coast".
An East Dorset Friends of the Earth spokeswoman said: "We still oppose the drilling strongly. It is continuing a reliance on fossil fuels."
Construction of the well has been scheduled for early winter 2015.