Sandbanks ferry suspended after chain break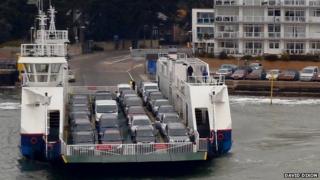 The car ferry across the mouth of Poole Harbour in Dorset was suspended for nearly two days after one of the chains guiding it broke.
The Sandbanks Ferry was forced to halt crossings on Thursday morning.
Operators spent more than 10 hours replacing the chain and the ferry was returned to service at about 19:20 BST on Friday.
It is unclear what has caused the latest breakage but passing vessels have been ruled out.
In July, the service was put out of action when a passing cross-channel ferry was suspected of clipping and breaking a chain.
The Marine Accident Investigation Branch is investigating the incident in July although Brittany Ferries said an inspection of its ferry by divers showed no sign of an impact.
The Sandbanks chain ferry, called Bramble Bush Bay, takes four minutes to make the crossing from Sandbanks to Shell Bay. The shortest alternative road route from shore to shore is 27 miles.