Dorset councils merging 'could save £6m'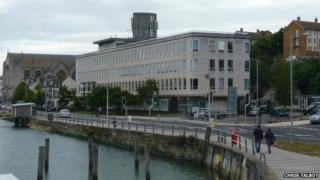 Three Dorset councils are expected to merge in a bid to save £6m by 2020.
West Dorset District Council, North Dorset District Council and Weymouth and Portland Borough Council are to share one chief executive and senior management team.
A "single workforce" is to be created for the councils but it is not clear how many job losses there will be.
Each council will continue to set its own budget and remain independent but will work from one office.
'Rationalising assets'
West Dorset councillors voted through the plans on Thursday and the other two councils are due to vote on the proposals before 6 November.
The chief executive for all three areas must be in place before April 2015 in order to secure funding for the merger.
In a report to West Dorset council it said offices would be shared and one IT system would be created.
The assets of all councils will be reviewed "with the intention of rationalising those assets as much as possible".
Some councillor meetings could become "peripatetic", moving across the area.