Man attacked during Bournemouth armed burglary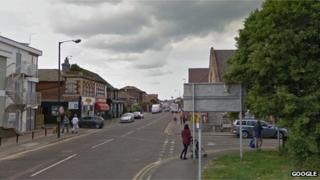 A man was threatened with a gun and a knife, before being sprayed in the eye with an "acid-type substance", during a burglary in Bournemouth.
Dorset Police said a large group of men wearing balaclavas went into a house on Palmerston Road before attacking the victim, who is in his late teens.
One man held a gun to his head while another put a knife to his throat.
The man is recovering in hospital after suffering a serious eye injury caused by the spray.
Det Sgt Paul Auger said it had been "very distressing" for the man, who was attacked on Saturday, between 16:50 and 17:30 BST.
The victim has described one of the attackers as white, about 6ft tall, of thin build and wearing a grey beanie hat and scarf or balaclava.
He had a pronounced bridge area on his nose and was wearing a dark blue waterproof coat.
All the men spoke with London accents. Police said it was not yet clear what had been stolen.
Anyone with information about what happened, is asked to contact police.