Linda Lietaviete murder trial: Alvin Santos 'had blood on hands'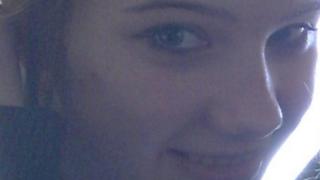 A man accused of murdering a 16-year-old business student was found with blood on his hands shortly before her body was discovered, a court has heard.
Linda Lietaviete was found partially clothed with seven stab wounds to her chest at Horseshoe Common in Bournemouth on 13 December.
Winchester Crown Court heard Alvin Santos, 26, had arranged to meet the Latvian student the previous evening.
Mr Santos, of Wimborne Road, denies murder.
At the opening day of his trial, the prosecution told jurors Mr Santos and Linda had been friends for several years.
The jury was told of a WhatsApp phone messaging conversation between the pair on 12 December, during which they arranged to meet in Bournemouth town centre.
'Blacked out'
Santos was seen on CCTV purchasing a bottle of vodka and the pair were heard laughing and listening to music in Horseshoe Common.
The court heard Mr Santos later returned to his flat in Wimborne Road.
The prosecution said his sister Catherine saw blood on the back of his hands and he told her he had stabbed someone. She called the emergency services.
Linda's partially clothed body was found covered with leaves by paramedics shortly afterwards. It appeared to have been dragged.
The court heard after his arrest Mr Santos told police: "I was trying to protect my friend"
Blood tests showed he had taken methylone, an illegal drug which has similar effects to amphetamines or ecstasy, at some time in the previous 24 hours.
He had also smoked cannabis.
The court was told that in police interviews Mr Santos said he had been drinking and chatting with Linda but had become "furious" when she told him she was responsible for him being assaulted in 2010.
He admitted stabbing Linda but said that he had "blacked out" during the incident.
The jury heard he said: "It was an accident - I didn't mean to do it"
The trial is expected to last two weeks.