Crowds cheer as Old Harry Rocks cliff-fall dog rescued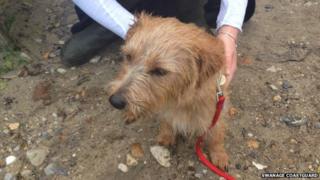 Crowds of people who gathered on a Dorset cliff top after a dog that fell nearly 100ft (30m) into the sea, cheered as the animal was rescued by a lifeboat.
Molly, a 10-month-old brown Norfolk terrier, bounded over Old Harry Rocks, near Swanage, on Saturday afternoon.
Coastguards arrived to find the owner and about 100 other people peering over the edge trying to spot the animal.
Molly was eventually found and brought to shore at Studland.
Poole Inshore Lifeboat helmsman Ed Davies said: "It was miraculous, how the dog was safe and sound after her adventure, considering her 100ft fall and swim.
"She is a lucky dog. It was really good for the crew to reunite her with her owner."
Poole Coastguard unit had been preparing to abseil down the cliffs at about 15:30 BST when the dog was spotted by lifeboat crewman Pete Smith.
It seemed Molly had swum through a sea cave to a beach on the north side of the rocks where she was picked up, apparently uninjured, and taken ashore.