Poole Hospital opens revamped maternity unit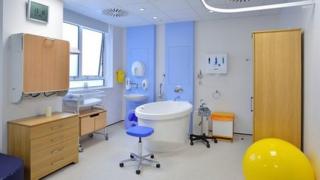 A £4m maternity unit has opened at Poole Hospital.
The St Mary's unit at the hospital in Dorset underwent an upgrade to handle an additional 1,400 births a year.
The midwife-led St Mary's now boasts 13 extra maternity beds, three extra birthing pools, a refurbished neo-natal intensive care unit and new private rooms.
Head of midwifery Sandra Chitty said the investment allowed the unit to "keep pace with demand".
St Mary's delivered more than 4,600 babies in 2013 and deals with high-risk births across East Dorset.
The £4m upgrade is part of £6.2m allocated to improving maternity care at Poole Hospital in recent years.
The total of five birthing pools now includes two pools for higher-risk mums, which the hospital said was "unusual".
Ms Chitty said: "The increase in capacity at St Mary's is extremely welcome, and supports us in our aims of offering the very best birth experience possible.
"The new birthing centre with its improved facilities for water births will be led by the community midwives, and will mean much better continuity of care for women classed as low-risk- patients."