Lighthouse, Poole to receive £5.6m upgrade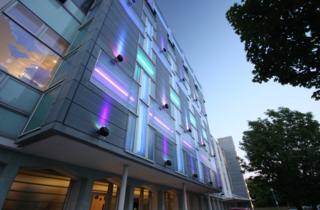 A theatre in Dorset is set to get a £5.6m makeover.
Lighthouse, Poole's Centre for the Arts, will get increased performance and seating space, an artists' green room and structural upgrades to make it more energy efficient.
The theatre was awarded £3.88m from Arts Council England towards the project, which will begin in the summer.
Chief Executive Elspeth McBain said it was "great news" for the area.
She added: "It will enable Lighthouse, as custodians of this wonderful building, to update and improve many aspects for the benefit of all users.
"Our distinctive building is our greatest asset and we must look after it well to ensure we have a facility that supports the cultural life of our community and is here for audiences and artists in the future."
Phil Gibby, area director for Arts Council England, called it a "transformative project" for a venue "which plays an increasingly important role in the region".
The theatre opened in 1978 as Poole Arts Centre and is the home venue of the Bournemouth Symphony Orchestra.