Navitus Bay wind farm: Issues debated at public meeting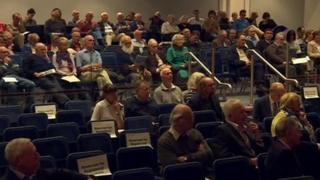 A public meeting to discuss proposals for a wind farm off the south coast has been held in Bournemouth.
Eighty people, both for and against Navitus Bay, spoke at the debate at the Bournemouth International Centre.
The development, off the coast of Dorset, Hampshire and the Isle of Wight, would comprise 194 wind turbines up to 200m (656ft)-high.
The plans have attracted more comment than any other offshore wind farm, according to the Planning Inspectorate.
Bournemouth resident Rachel Allen spoke in favour of the scheme during the meeting, describing it as an "asset" to the Dorset coast.
Alan Neale, from Poole, said it would be a way of producing power close to where it is needed.
But Iain Sclanders, from Southborne, argued the site was within an Area of Outstanding Natural Beauty and "should not be considered as a site for an industrial installation".
Plans were submitted in April with claims they would contribute £1.6bn to the economy over 25 years and generate power for up to 700,000 homes.
Bournemouth Borough Council, Purbeck District Council and Christchurch Borough Council have opposed the plans, along with the National Trust.
Several Conservative MPs in Dorset have also spoken out against the wind farm, while Unesco has said it could affect the Jurassic Coast's World Heritage status.
Labour's Simon Bowkett, standing for South Dorset at next year's general election, has welcomed the plans, and Liberal Democrat MP for Mid Dorset and North Poole Annette Brook said she was in favour of wind farms "in principle".
The Planning Inspectorate is expected to complete its examination of the proposals in March 2015 before a decision is made by the Secretary of State for Energy and Climate Change next September.