Dorset school dinners: Chartwells faces £450,000 compensation deal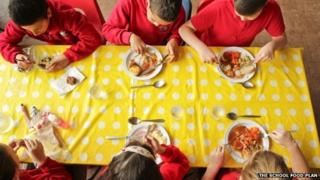 A catering company could have to pay £450,000 compensation for failures that led to children in Dorset not receiving cooked school meals.
Schools in the east of the county had to order sandwiches and pizza when deliveries from Chartwells failed to show up at the start of term.
A council report blames the caterer's poor communication, drivers not turning up and logistics at new premises not being tested.
Chartwells has yet to comment.
Dorset County Council said a draft compensation deal "in the region of £450,000" was being negotiated with Chartwells, to be distributed among the schools which have "received a less than satisfactory service".
Schools which have had to buy in packed lunches until half-term will not have to pay for any meals.
The contract, awarded earlier in the year, to provide daily meals for 107 schools was worth £3.5m over four years.
A council investigation found education officials were informed of a fire at the company's production centre in Ferndown on 17 June, although said Chartwells gave "assurances" it could fulfil its commitments using a temporary kitchen at Bovington.
On 2 September, the authority was informed by the company that it was experiencing problems including no mobile phone signal at the Bovington plant.
There was also an "unexpected problem" of drivers and operational staff failing to turn up for work.
Robin Mills, managing director of Chartwells, previously said: "We completely understand the concern and inconvenience that this has caused and we have apologised to those affected."
The council said 23 schools in the county would continue to receive packed lunches until October half-term, while Chartwells prepared its replacement kitchen.
All infant pupils at 16,000 schools across England are now entitled a daily hot meal under the Universal Infant Free School Meals policy.