Swanage Community Hospital saved from closure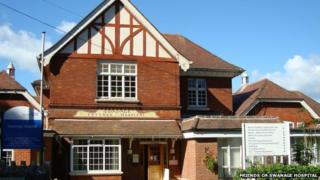 A community hospital in Dorset has been saved from closure.
Swanage Hospital came under threat from Dorset Clinical Commissioning Group proposals in 2012 to replace it with a polyclinic or a hospital elsewhere.
South Dorset MP Richard Drax said the closure would have been "a grievous blow" to the 30,000 Isle of Purbeck residents Swanage Hospital served.
Friends Of Swanage Hospital said they were "delighted" the hospital, founded in 1890, would remain open.
'Centre of excellence'
The hospital has 15 in-patient beds as well as a day surgery, minor injuries unit and X-ray department.
Dorset CCG proposed building a polyclinic elsewhere in Swanage in place of the hospital it deemed outdated and expensive to run, or creating a new Purbeck Community Hospital in Wareham.
But campaigners protested these options would mean losing in-patient beds in the local area.
Following a two-year campaign and £1.4m raised by the Friends group, Dorset HealthCare University NHS Foundation Trust decided the hospital should remain open.
Dorset HealthCare locality director Sally O'Donnell said: "We've always known the hospital and its really committed staff have been valued by the people of Swanage."
She said the hospital's future was in doubt for two years while a new model of care for Purbeck was being considered.
Friends of Swanage Hospital chairwoman Jan Turnbull said the hospital was a "real centre of excellence".
She added: "We want to feel we have medical facilities close to home.
"We've invested a lot of money in making sure this hospital is fit for purpose."