Ex-BA pilot Bartle Frere guilty of arranging sexual abuse of a child in India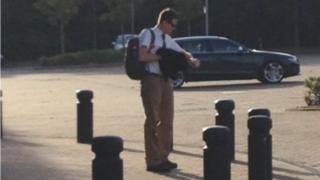 A former British Airways pilot has been convicted of arranging the sexual abuse of a child in India.
Bartle Frere, 50, from Dorset, was found guilty of two counts of arranging or facilitating the commission of a child sex offence.
Bournemouth Crown Court heard he lavished a boy in India with gifts.
He was convicted on six counts of possessing indecent photographs, which related to DVDs of naked Ukrainian boys found at his home.
The jury failed to reach a verdict on 17 other charges. The Crown has 14 days to pursue a retrial.
The offences he was convicted of related to messages sent over Facebook to a boy in India for whom he bought phones and clothes.
He arranged to meet him in his hotel for "baths and cuddles".
Frere, of Shipton Gorge, who no longer works for British Airways, had pleaded not guilty to all 25 charges during a trial at Bournemouth Crown Court.
Those charges on which the jury could not reach a verdict included sexual activity with a child, indecent assault, indecency with a child and attempting to record a person doing a private act.
The panel of eight women and three men were discharged by Judge Peter Johnson.
The judge said: "The Crown is likely to seek a re-trial in respect of the outstanding counts and I give them 14 days."
He renewed Frere's conditional bail and said he would be placed on the sex offenders register in the interim.