Weymouth Football Club backs plans for housing development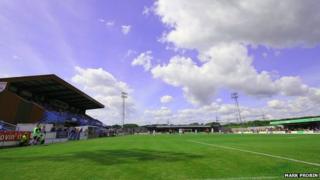 Weymouth Football Club (WFC) has backed a planning application to build homes on its ground.
The club wants to give its site over to housing developer, Wessex Delivery LLP, which owns land around the Bob Lucas Stadium in exchange for funding.
It has written to West Dorset District Council registering its support for the development of 170 homes, a shop and a village green.
The club would then relocate to a new site and build a £7m community stadium.
The new ground would also be used for conferences, weddings and community functions, the club said.
'Something positive'
A club statement read: "The new stadium will not just be the home of WFC but a genuine community stadium.
"It is about time that Weymouth had something new, something positive, something that the town can be proud of."
Wessex Delivery LLP holds a 15-year option from 2008 to acquire the site.
In October, West Dorset District Council rejected Wessex Delivery LLP's plans, a second application submitted by the developer in July is currently under consideration.
And a planning permission for a new stadium on a former landfill site in Lodmoor was also rejected amid contamination fears from a waste liquid.