Ex-BA pilot Bartle Frere was 'badgered' by boy, 14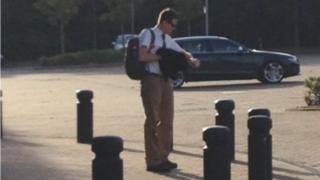 A former British Airways pilot accused of sending sexually explicit messages to a boy in India, said the boy was "badgering me" to be allowed to come to his hotel room.
Bartle Frere, 50, from Shipton Gorge, Dorset, is accused of 25 offences, including the abuse of boys in India and the UK. He denies the charges.
Bournemouth Crown Court heard he had emailing a boy of 14 in Bangalore.
In one email he said he wanted a bath with the boy and to cuddle him in bed.
'Continually badgered'
The court was told he sent a message which read: "Have you found other young boys you could bring with you to the hotel?"
Asked by his defence counsel, David Fisher QC, what he had meant by those messages, he explained it was because the boy was "very naive".
He added: "There was an attempt to shock his sensitivities. He never reacted to these provocations.
"I wanted to punch through his naivety to show there could be issues with allowing him back to my hotel room.
"He was continually badgering me to allow him into the hotel."
He denied it was because he had pursued a sexual relationship with the boy.
Mr Frere said he had befriended the boy and his mother because they were poor and he wanted to help them.
Mr Frere said he had wanted to help the boy "better himself" and admitted the child visited his hotel and had a bath, but said this had only happened once.
Later he bought the boy a mobile phone which they would use to communicate with each other.
In some of the messages the boy would sign off emails with the words "love you".
This was "typical" of the way the boy spoke and not a sign they were in a relationship, Mr Frere said.
Mr Frere is accused of five offences of arranging or facilitating the commission of a child sex offence, relating to boys in India.
He is also charged with indecent assault, indecency with a child, two charges of a serious sexual nature in relation to a boy in the UK.
With regard to the second UK boy, he is charged with one count of sexual activity with a child and one of attempting to record a person doing a private act.
The defendant also faces charges of possessing and making indecent photographs of a child.
The trial continues.