Ex-British Airways pilot Bartle Frere denies abuse of boys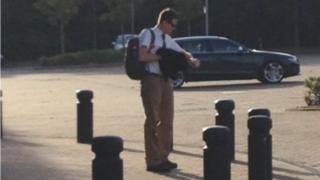 A former British Airways pilot accused of sex offences against boys told his trial he is "asexual" and has never been attracted to "anyone or anything".
Bartle Frere, 50, from Shipton Gorge, Dorset, is accused of 25 offences, including the abuse of boys in the UK and India. He denies all the charges.
He told Bournemouth Crown Court he had no interest in sex with men or women.
He claimed he found young boys "aesthetically pleasing" but insisted he was not sexually attracted to them.
'Stimulating company'
The bachelor described himself as "asexual", telling the jurors: "I've always had a low sex drive. It's never something I have required or desired in my life.
"I don't find being sexually attractive to anyone or anything."
David Fisher QC, for the defence, asked Mr Frere whether he was interested sexually in young boys.
"No, no doubt at all. Sexual attraction would give arousal and I have never had any arousal through contact with boys," he replied.
"I find their company stimulating. I enjoy the banter you can have with them."
Mr Frere added: "I also find young boys aesthetically pleasing to look at but I don't find them sexually attractive in any way.
"I don't automatically avert my gaze if a youngster walks in the room - it's difficult to pin it down."
The court heard Mr Frere worked for British Airways for 25 years - rising to the rank of captain before leaving in February.
He was arrested in November last year after police raided his former home in Dorset and found pornographic videos, indecent pictures on his computer and children's clothing in a bedroom drawer.
Further investigations revealed regular social network contact with teenage boys in India, the court was told.
Pictures of children
The defendant said he regularly took flights to Chennai, spending rest days visiting the nearby fishing village of Nochi Kuppam.
He explained he became friends with village families because of his "passion" for photography - taking pictures of both children and adults.
"I took an interest in the children and they took an interest in me," he said.
Mr Frere said he bought them clothes and gifts, sometimes spending up to £200 on them during a trip.
He said: "For the cost of me eating in the crew hotel I found I could feed about a dozen children in a local restaurant."
Mr Frere is accused of five offences of arranging or facilitating the commission of a child sex offence, relating to boys in India.
He is also charged with five counts of indecent assault, one count of indecency with a child and two charges of serious sexual offences in relation to one of the boys from the UK.
With regard to the second UK boy, he is charged with one count of sexual activity with a child and one charge of attempting to record a person doing a private act.
The defendant also faces six charges of possessing indecent photographs of a child and four charges of making indecent photographs of a child.
The trial continues.