Bournemouth's Winter Gardens revamp approved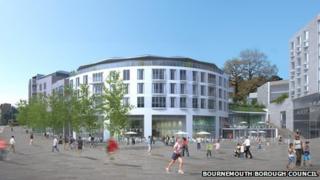 Plans to redevelop a former music venue which once hosted the Beatles and the Rolling Stones have been approved.
Councillors green-lit a mixed-use redevelopment of the former Winter Gardens site in Bournemouth after twice rejecting similar plans in the past.
The proposals for the site include a family entertainment centre, shops, restaurants and homes.
The Winter Gardens concert hall was demolished in 2006 after being closed in 2002.
The site has since been used as a temporary car park.
Planners had previously rejected plans to redevelop the site in 2013 and 2012.
At the time, councillors concluded the development would be "overbearing" and have an "adverse impact" on the Winter Gardens site and residential properties in Cranborne Road.
The new plans comprise 5,959 sq m (64,142 sq ft) of commercial space, 114 homes and 8,674 sq m (93,366 sq ft) of leisure space.
This includes an ice rink and a family entertainment centre or cinema.
The plans also include a 4,495 sq m (48,383 sq ft) hotel, a public and private car park and upgrades to public space.
Council officers had recommended the plans for approval.