Royal opening for Dorchester council offices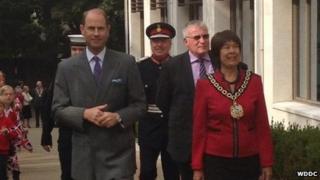 New council offices in Dorchester have been officially opened by the Earl of Wessex.
The earl toured the new £9.7m South Walks House headquarters for West Dorset District Council on Charles Street as part of a visit to the town.
It replaced Stratton House on High West Street which was put on sale for £3.5m but sold for £1.5m in 2013.
The council previously said the new premises would lead to an annual saving of £224,000 in running costs.