Dorset Regiment veteran meeting 'likely to be last'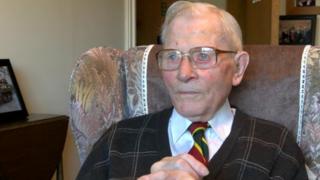 Veterans of the Dorset Regiment have met to mark the 70th anniversary of their role in three major battles in World War Two.
Four battalions of the regiment fought on D-Day, at Arnhem, the Netherlands, and at Kohima, India, in 1944.
The veterans met in Dorchester to remember their comrades and to launch a book about the regiment's history.
Author Christopher Jary said Saturday's event was "likely to be the last formal event for the Dorset Regiment".
"Most of the veterans attending the party are now in their late seventies and eighties," he said.
Veteran Cliff Lloyd, 96, from Gillingham in Dorset, was wounded in Normandy in July 1944 and then captured by the Germans at Arnhem during Operation Market Garden.
The 96-year-old spent the rest of the war as a prisoner of the Germans.
Recalling his capture at Arnhem, Mr Lloyd said: "One officer of the fifth battalion, they were there before us... and I shall never forget that he shouted out at the top of his voice 'Dorset cease fire'.
"Everything stopped and that is when we were all gathered in and quite a lot were captured there."