Baby hedgehogs 'could die from cold' warning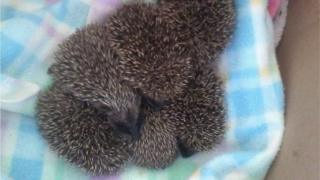 More than 30 baby hedgehogs are being kept alive with hot water bottles after a water leak caused gas to be shut off.
They are said to be at risk of death if gas is not restored to a special hospital in Canford Heath, Poole.
Angela Squires, 69, is keeping the fragile animals warm with hot water bottles.
She said the babies were in "real danger" if they started to hibernate as they did not have enough body fat to keep them warm.
On Monday a section of gas pipe in Culliford Crescent was damaged after a water main burst. Residents have been supplied with heaters and hot plates for cooking. Southern Gas Networks has reconnected the gas in 115 out of 600 homes.