Weymouth sea level study bids to prevent 4,000 properties flooding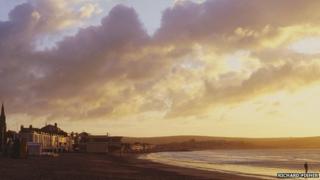 More than 4,000 properties in Weymouth could be at risk of future rising sea levels if flood defence schemes are not put in place, engineers have said.
A six-week study in the Dorset seaside town will see what is needed to protect properties over the next 100 years.
The council's engineering team said options included raising the harbour walls and constructing a sea wall along the esplanade.
A longer term solution could be a tidal barrier across the harbour.
'Beach re-nourishment'
The engineering team said if nothing was done, 4,040 properties could be at risk of flooding by 2116 from a one-in-200-year tidal event.
Currently the amount of properties at risk is 450.
The "coastal processes" study across Weymouth Bay will involve drilling 21 boreholes 10-13m (33ft to 43ft) deep and installation of ground water monitoring instruments.
Because of the drilling, "some noise will be unavoidable", Weymouth & Portland Borough Council said.
Environment councillor Ian Roebuck said: "These works are extremely important in identifying what strategies need to be put in place to ensure Weymouth can deal with rising sea levels."
The engineering team said it was "also looking at various options for Preston Beach including groynes, break waters and beach re-nourishment".
Engineers will start ground investigations around Weymouth Harbour, Weymouth Esplanade and Weymouth town centre on Monday.
Residents and businesses that could be affected have been sent letters about the work.
The £300,000 project is funded by the Environment Agency.