Challenge Weymouth triathlon road closures in place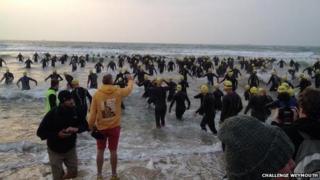 Numerous road closures were enforced across the south of Dorset as Weymouth hosted its first ever triathlon event.
Challenge Weymouth featured 1,500 competitors swimming 1.2 miles (3.9km), cycling 112 miles (180km), and running 26 miles (42km)
The 70-mile (112km) course has resulted in several parking restrictions too.
Dorset County Council outlined changes to its travel services and other expected disruptions on its website, with some lasting until midnight.
The event started at 07:00 BST, half-an-hour later than scheduled, because of "choppy conditions" in the sea, a spokeswoman said.
The distance of the swim was originally meant to be 2.4 miles.
The winner of the triathlon was Joe Skipper from Lowestoft, in Suffolk, who completed the course in 7 hours, 49 minutes and three seconds.