Dorset school meals failure means teachers buy pizzas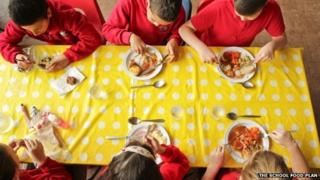 Teachers have had to order pizza or buy sandwiches when a school meal contractor has failed to provide food.
Infant pupils in the east of Dorset were supposed to receive a hot meal from private firm Chartwells under new legislation from the start of term.
But many meals have been late or incomplete because the company has faced difficulties after a fire near one of its kitchens.
Chartwells apologised and said packed lunches were being provided instead.
All pupils at 16,000 infant schools across the country are now entitled to a free school meal.
'Extremely frustrated'
On Tuesday pupils at Mudeford Infants School in Christchurch received a letter from head teacher Duncan Churchill.
An hour-and-a-half after lunchtime had started food had still not arrived so he bought children sandwiches from a supermarket.
He said he was "extremely frustrated and disappointed" by the service.
Dorset County Council estimated 5% of infant schools had been affected.
A statement from Chartwells said there had been a fire at one of its kitchens and: "We completely understand the concern and inconvenience that this has caused and we have apologised to those affected."
Spent £230 on sandwiches
A new kitchen is being built and pupils will be given packed lunches instead of hot meals.
The company said it was working with the council to resolve the issues.
Pupils at St Andrew's Primary School in Weymouth also received a message on Wednesday to say there were issues with the hot meal providers.
South Today discovered one head teacher spent £100 ordering pizza for pupils and teachers at Parley First School spent £230 on meal deal supermarket sandwiches.
A spokesperson for the Department for Education said: "Dorset County Council and schools are working closely with suppliers to ensure there is no repeat of the issues that affected a few schools at the start of term."