Revamp of Bournemouth's Pier Approach area begins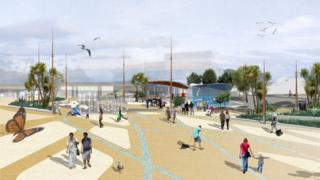 Work to transform the eastern side Bournemouth's Pier Approach has started as part of a 20-year council plan to develop the seafront.
The regeneration is part of Bournemouth borough council's Seafront Strategy to attract more tourists.
Plans for the space include an illuminating water feature and an information kiosk.
The council said most of the current seafront infrastructure dates back between 50 and 100 years.
Work already carried out to improve the look of the Bournemouth seafront includes the demolition of the waterfront Imax cinema building.
The council's Cabinet Member for Tourism, Leisure and Culture, Lawrence Williams, said: "The future presentation of this space is vital if we are to inspire a new generation to visit Bournemouth."
The council is funding £4m for phase one of the Pier Approach regeneration, but said it was seeking investment "from external grants as well as private sector investment".
The work will be completed by spring 2015 with The Arts by the Sea Festival and the Bournemouth Marathon Festival running as usual.