Spiny seahorse 'sighted only once'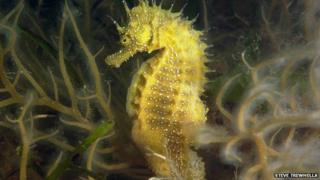 Only one spiny seahorse has been seen in an area off the Dorset coast in the past year, in what was once a thriving colony, campaigners have warned.
There were 40 sightings of the spiny seahorse in Studland Bay in 2008, which dropped to four in 2013.
Neil Garrick-Maidment, director of the Seahorse Trust, called the isolated sighting "very sad" and said it represented the "decline of a species".
Natural England said it was difficult to put the sighting "in context".
The seagrass meadows in Studland Bay have served as breeding grounds for the protected creatures, which are about eight inches (20cm) long.
'Sorry-looking animal'
The sighting was made by documentary maker Andy Jackson.
Wildlife photographer Steve Trewhella said it was of a "juvenile, rather dull, and sorry-looking animal".
He added: "I'm extremely good at finding these animals. I'm confident that if they were there we'd find them. They simply aren't there.
"We were once seeing magnificent, beautiful creatures. The one seen this year didn't look in good condition."
---
Spiny seahorse
•Named after prominent fleshy spines that run down the back of its neck
•Varies in colour from greenish-yellow to reddish-brown
•Has long snout and a prehensile tail
•Hunts by waiting motionless in the water until its prey passes close by its mouth
•With a rapid intake of water, the seahorse sucks the prey into its long snout
Source: BBC Nature
---
Mr Garrick-Maidment called the situation "worrying" for the "superb and unique" animals.
"I'm one of life's eternal optimists. I like to believe that things will get better but unfortunately the statistics are showing that things are getting worse."
He said part of the problem was boat anchors ripping up the seagrass beds.
But in a statement the Boat Owners Response Group said there was no evidence of a loss of the habitats in the bay.
A Natural England spokesperson said: "Studland Bay is a known site for seahorses but there is limited data on historical fluctuations in numbers.
"This makes it difficult to put this year's reported single sighting in context over the longer term."
Studland Bay is currently under consideration by Defra as a candidate for a Marine Conservation Zone. A public consultation is due to be held in early 2015.