Portland weather to compose music as part of art installation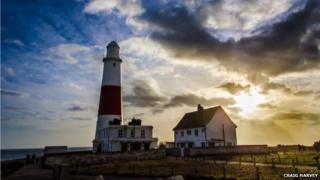 Portland's sun, rain and wind will be translated into a musical composition as part of an art installation taking place in Dorset.
Variable 4 is an outdoor sound machine that translates weather conditions into musical patterns in real time.
Using meteorological sensors, the weather will act as an orchestral conductor and select from a map of 24 tailored musical movements.
The installation will be on the coast of Portland Bill until 14 September.
Artist Daniel Jones said: "Every aspect of the piece, from broad harmonic progressions down to individual notes and timbres, is influenced by changes in the environment."
Each musical movement corresponds to a set of meteorological conditions: temperature, rainfall, wind speed, humidity and sunlight.
The resultant composition is performed through eight loudspeakers integrated into the landscape.
The Weymouth Concert Brass band and other Dorset brass bands have performed fragments "which reflect the area's maritime and social heritage," Mr Jones said.
Previous Variable 4 locations since 2010 have been Dungeness in Kent, Elizabeth Castle in Jersey and Snape Maltings in Suffolk.
Variable 4 in Portland is part of an art programme by b-side festival, featuring artists who work closely with site and landscape.