Bournemouth coastline set for £1.2m repairs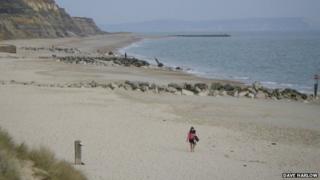 More than £1.2m is to be spent repairing storm damage to an area of coastline near Bournemouth.
Hengistbury Head was badly damaged by waves during the winter storms, with several repairs needed, including to the Long Groyne, and the rock-filled bank at Double Dykes.
David Smith, member for planning and environment at Bournemouth Borough Council, said the work was "vital".
It is being funded by a flood defence grant from the Environment Agency.
Lawrence Williams, member for tourism, leisure and culture, said: "Last winter our coastline was battered by relentless rain, strong gales and exceptionally high tides.
"These much-needed repairs to the groynes and the rock-filled revetment at Hengistbury Head will help protect our beautiful beaches for everyone to enjoy."
£1.4m has also been pledged for coastal repairs in Christchurch, with £1.2m coming from the Environment Agency, to repair groynes and promenades.
The reconstruction work in Bournemouth begins on Monday and is expected to take eight weeks.