Bournemouth Air Show attracts record numbers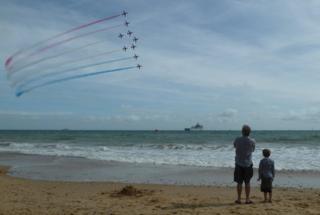 A record number of people watched aircraft above Bournemouth over the weekend.
An estimated 1.2m people attended the seventh Bournemouth Air Festival from Thursday to Sunday.
More than 840,000 visited for the weekend days, with the coastguard confirming 1,000 boats provided a view from the water.
The Red Arrows, a Spitfire, Hurricane, Dakota, RAF Typhoon and the last British Lancaster bomber all took part.
The air show was also the biggest joint event between the Royal Navy, the Army, Royal Air Force and the Royal Marines in their 350th year.
Last year 717,000 people visited the air show over the weekend, compared with 842,000 this year.
The festival started with 94-year-old wing walker Tom Lackey, who said: "Wing walking keeps me going and at my age I wouldn't be alive without it. It's what I live for."