South England hospitals 'failing to meet nurse levels'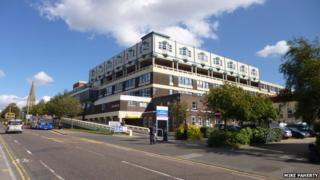 Hospitals in the south of England are failing to provide the recommended number of nursing staff on wards, a BBC investigation has found.
BBC South found 78% of nursing shifts on acute wards were not being staffed to meet agreed Royal College of Nursing (RCN) safe levels.
Among the worst were Poole hospital, where healthcare assistants outnumbered nurses, and the Isle of Wight hospital.
However, the Royal Berkshire Hospital topped the list of best hospitals.
Using the Freedom of Information Act, the BBC asked trusts how many registered nurses and health care assistants were on shift over a 48 hour period.
According to RCN guidelines, a typical acute ward should have one registered nurse for every eight patients, or one per seven on elderly care wards.
'Significant progress'
There should also be a "skill mix" of 65 per cent nurses to 35 per cent health care assistants.
But, 78 per cent of nursing shifts surveyed did not meet this staffing ratio.
When ranked in order of "best" to "worst" in terms of safe staffing, Berkshire and Brighton hospitals came out top and the Isle of Wight and Buckinghamshire were bottom.
At Poole Hospital 38 per cent of shifts had more health care assistants than nurses on duty.
In a statement, Poole Hospital said: "[We] offer safe, high quality care which complies fully with guidelines on staffing levels from NICE, which provides a range of national health care guidance."
Last month, NICE issued staffing guidance, which endorses using "toolkits" to work out safe levels.
However, most hospitals will continue to adhere to the RCN's guidelines.
Alan Sheward, executive director of nursing at St Mary's Hospital, Isle of Wight, said it has made significant progress since the review.
He said: "We are forever striving to make it better."