Castlepoint car park repairs agreed after nine years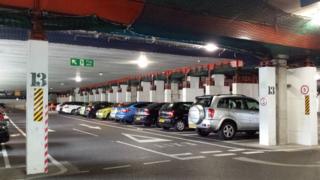 Agreement has been reached to rebuild part of a shopping centre and car park that has been beset with structural problems for nearly a decade.
Castlepoint in Bournemouth opened in 2003 but the car park has been reinforced with props since 2005 when it was found to be unsafe.
After years of wrangling, a planning application to demolish and rebuild the two-level car park has been submitted.
If approved, the work is expected to be completed by Christmas 2018.
Standard Life Investments, which manages the centre on behalf of Castlepoint Partnership, would not disclose the cost of the rebuild but said there would be no cost to tenants.
Development manager Mike Nisbet said: "We don't want to dwell on what has gone wrong. We are looking to the future and how it will be when it's finished."
In an effort to minimise disruption, the work will be carried out in five main phases, each taking nine to 10 months, and will halt for six weeks each Christmas.
Additional parking will be created underneath the existing stores to maintain at least 2,500 spaces - the amount needed at peak times.
When the project is complete, the additional spaces will be turned into retail units.
The walkways in front of the shops will also be replaced in phases.
It is expected some shops will have temporary doors constructed, others are considering pop-up shops and some may close completely for five days while their section of walkway is replaced.
The planning application will be considered by Bournemouth Borough Council.