Non-emergency patient transport service in Dorset 'improving'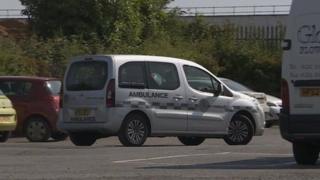 A non-emergency ambulance service criticised as "abysmal" has improved, according to a health watchdog.
The non-emergency patient transport service in Dorset was criticised by patients for arriving late and early and failing to pick them up.
In February the Care Quality Commission (CQC) found it was failing to meet essential standards on staffing, management and handling complaints.
But in its new report, the CQC said it found improvements had been made.
'More to be done'
E-Zec took over the service from South Western Ambulance NHS Trust in October.
Hundreds of complaints were made over missed appointments, long delays and the service arriving late and early.
The CQC inspected E-Zec in January and released a report in February in which it found action was needed in five of six essential standards.
The BBC learned in June the NHS handed over an extra £1m to E-Zec to help meet demand.
E-Zec said many of the problems had arisen because the NHS in Dorset underestimated the amount of work involved when it awarded the contract.
Dorset's Clinical Commissioning Group said it would continue to work with E-Zec to improve standards.
E-Zec said it appreciated there was "more that needs to be done".
It said: "Further to additional funding, in line with increased activity, we are deploying more vehicles and increasing our number of crews."