Roads could be disrupted as wide load is transported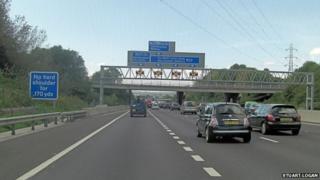 Drivers in Dorset and Hampshire are being warned to expect disruption when an abnormal load takes to the road.
Two 5m (16ft)-wide shipments of coolers are being transported from Holton Heath near Poole to Southampton docks from 06:00 BST on Friday and Saturday.
Dorset Police will escort the load through the county until reaching the border with Hampshire, when it will continue to the docks alone.
The convoy will travel from Holton Heath to the Bakers Arms roundabout.
It will go on to the A35 at Upton, then on the A3049 Dorset Way to the Tower Park roundabout.
The route will follow the A3049 to Fleetsbridge, the A349 to Gravel Hill, A341 at Oakley Hill, then on the A31 to the county boundary and into Hampshire. It will then travel on the M27 without an escort.
It is not yet known how long the shipment will take to reach its destination.
A planned shipment on Thursday was cancelled.