Bad weather disrupts Great Dorset Steam Fair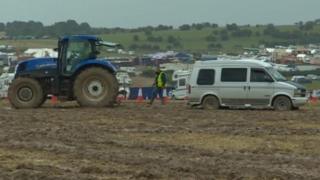 Festival-goers have been struggling to access the site of the Great Dorset Steam Fair because of bad weather.
The show is due to take place from Wednesday to Sunday in Tarrant Hinton near Blandford but the wet ground has made it difficult for vehicles to get on to the site.
Posting on Twitter and Facebook, the event's organisers appealed for help from local tractor drivers.
They said all available resources were being used to minimise disruption.
A spokeswoman for the event said the tractors were needed to get exhibitors off the road and on to the site quickly, as the bad weather meant it was more difficult to move vehicles.
Last year, displays in the show's arena were cancelled after heavy rain in order to prevent the ground cutting up over the remaining five days of the show.
The event, in its 45th year, regularly attracts up to 200,000 visitors.
Steam road locomotives are the main attraction but the event also features other vintage vehicles and live music.