Lyme Regis walkway opens as sea defences finished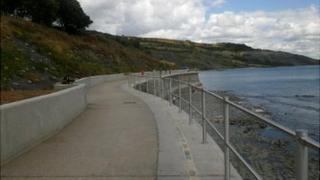 A new sea wall walkway has opened in Dorset following the completion of the town's sea defences.
Construction of the £19.5m scheme for Lyme Regis began in April 2013 and the surrounding landscaping and planting is due to be finished by Christmas.
The path will be closed again in October while a footpath and steps to Charmouth Road car park are built.
The project is the fourth phase of a wider scheme to protect homes, roads and infrastructure from erosion.
The 390m (1,200ft) stretch of sea wall should last 50 years and will safeguard nearly 500 homes and access to the town.
Robert Gould, leader of West Dorset District Council, said: "It is great news that the major stabilisation works in Lyme Regis is nearly complete, safeguarding many homes and businesses."
An official opening will be held in 2015.
The stretch of the Jurassic Coast is particularly prone to landslips.
In May 2008, about 400m (1,300ft) of cliff slipped between Lyme Regis and Charmouth, exposing an old landfill site.
About 12 miles away 22-year-old Charlotte Blackman, of Heanor, Derbyshire, died when a 160ft (50m) high cliff at Burton Bradstock collapsed, in July 2012.